How to Migrate to Snowflake 60% Faster
Thinking of Migrating to Snowflake?
Download our guide to learn how we:
Migration Planning:

by tracing the lineage of your data, automation reveals exactly what's in your legacy EDW.
Migration Translation:

automatically translate and convert legacy code into Snowsql as well as re-point ETLs easily.
Migration Testing:

immediately test the efficacy of your translated code and ensure UAT-readiness.
"Our partnership with Next Pathway is essential to helping our customers automate this migration from on-premise solutions to Snowflake's Data Cloud."
Christian Kleinerman
SVP of Product, Snowflake
Snowflake Migration Resources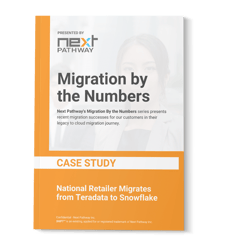 National Retailer Migrates from Teradata to Snowflake
Learn how Next Pathway helped a National retailer migrate to Snowflake in just 12 weeks
Food & Beverage Leader Moves from Teradata & DataStage to Snowflake
Learn how Next Pathway Modernized 2,768 IBM DataStage ETL jobs to run against Snowflake with SHIFT™ Translator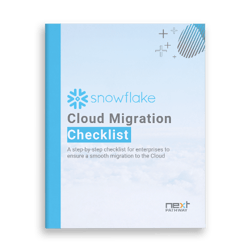 Snowflake Cloud Migration Checklist
Our checklist gives you a comprehensive list of everything you should keep in mind when planning and executing your legacy EDW, Data Lake and ETL migration to Snowflake