End-to-End Analysis. Actionable Visualizations.
Crawler360™ captures end-to-end relationships, dependencies and lineage in a user-friendly UI that makes it easy to build the best plan for your migration.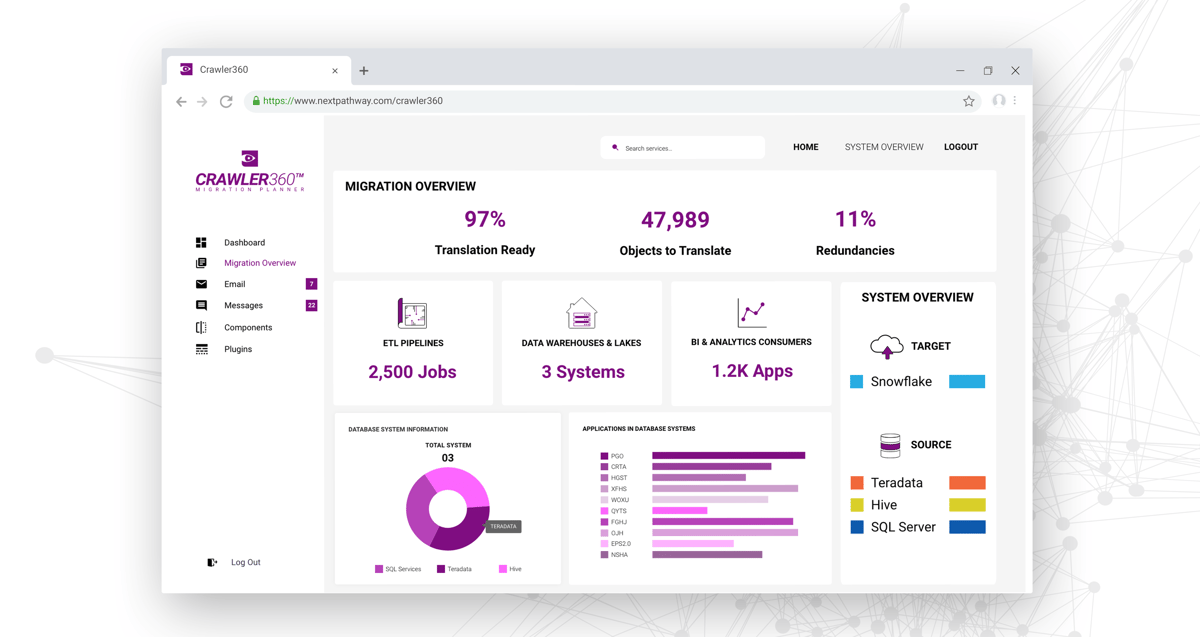 Here's What You Can Scan and Analyze with Crawler360™

ETL Pipelines
Crawler360™ analyzes ETL pipelines to understand the end-to-end data flow, from ingestion to consumption to capture lineage and orchestration sequencing.

Data Applications & Tables
Crawler360™ analyzes data lake and data warehouse applications and tables to understand object counts and workload dependencies across disparate applications – including hot and cold spots.

BI & Analytics Consumers
Crawler360™ analyzes BI and Analytics consumers to capture downstream consumption lineage and dependencies between consumer and data source.
What Leading Industry Analysts Are Saying About Our Migration Technology
"With its Crawler360™ self-service offering, Next Pathway is providing a solution that accelerates the migration process, giving organizations a faster route to realizing value from their data."
Rob Enderle
Principal Analyst, Enderle Group
"Next Pathway created Crawler360™ - a code analysis engine that enables a remarkably swift and robust transition from traditional on-prem data warehousing, to the new reality in the cloud."
Eric Kavanagh
Principal Analyst, The Bloor Group
Trusted By Leading Cloud Platforms
Ready to Accelerate Your Migration Planning?
Plan your cloud migration with visibility into your ETL Pipelines, Data Lakes, and Data Warehouses including downstream BI and Analytics Consumption patterns.