Accelerate QA Testing by 70%
Tester™ automatically defines and validates your translated code to ensure maximum performance in the cloud.
Here's How Tester™ Optimizes Your Migration Testing

Defines & Recommends Test Cases for QA Cycles
Auto-suggestion of testing rules based on an intelligent data profiling engine.

Fully Automated for Maximum Speed & Performance
Auto-generating data validation layers with support for various sources and targets.

Automatically Validates Data Results & Quality
Row-to-row comparison across multiple data sources in parallel.
How Our Customers Use Tester™ Today
Migration Testing
Testing for data warehouse, data lake or data mart migration projects.

ETL & ELT Testing
ETL & ELT migration optimization for migration projects to the cloud.

Operational Testing
Ongoing operational testing and API modernization.
What Industry Leading Analysts are Saying About Our Migration Technology
""With its SHIFT™ self-service offering, Next Pathway is providing a solution that accelerates the migration process, giving organizations a faster route to realizing value from their data.""
Rob Enderle
PRINCIPAL ANALYST, ENDERLE GROUP
""Next Pathway created SHIFT™ - a code translation engine that enables a remarkably swift and robust transition from traditional on-prem data warehousing, to the new reality in the cloud.""
Eric Kavanagh
THE BLOOR GROUP
Trusted By Leading Cloud Providers to Help Enterprises Reach the Cloud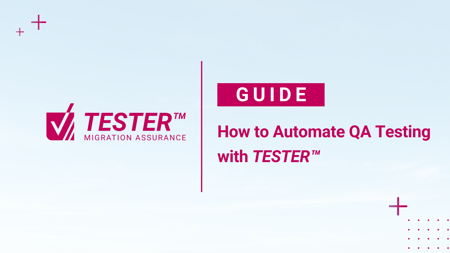 How to Automate Your QA Testing
Performing QA testing on your migrated code is crucial to ensuring it's fully ready for the cloud. Download our guide to learn how Tester™ can accelerate your QA and testing cycles by 70% - get it now.
Keep Exploring Our Migration Technology