Migrate Your Legacy ETLs to Databricks with SHIFT
Accelerate the migration effort by over 50% through end-to-end automation
Accelerate Your Databricks Migration to the Cloud
Download Our Free Step-by-Step Guide
How Do We Migrate ETLs to Databricks?

Accelerate Your Databricks Migration to the Cloud
Download Our Free Step-by-Step Guide
Use Automation to Migrate Legacy ETLs to Databricks

1. Automate ETL Migration Planning
Automatically scan and catalog your vast inventory of legacy ETLs to uncover the lineage and source-to-target data flow using Crawler360™ to find out what needs to be migrated.

2. Automate ETL Code Re-Pointing or Re-Writing
Leverage SHIFT™ to translate the underlying ETL code to run natively in Databricks.

3. Accelerate Cut-Over of ETLs to Databricks
Automate key aspects of data validation and code optimization to accelerate cut-over to Databricks through SHIFT™.
What Leading Industry Analysts Are Saying About Our Migration Technology
"With its SHIFT™ self-service offering, Next Pathway is providing a solution that accelerates the migration process, giving organizations a faster route to realizing value from their data."
Rob Enderle
Principal Analyst, Enderle Group
"Next Pathway created SHIFT™ - a code translation engine that enables a remarkably swift and robust transition from traditional on-prem data warehousing, to the new reality in the cloud."
Eric Kavanagh
Principal Analyst, The Bloor Group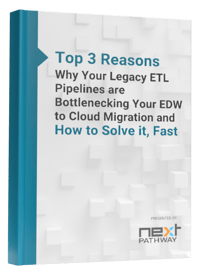 How to Automate Your ETL Migration to Databricks
Thinking of migrating your legacy ETLs to Databricks? Our step-by-step guide shows you how to migrate your ETL pipelines to Databricks 60% faster than manual estimates.
Download our guide today to learn how.
Accelerate the Migration of Your Legacy ETLs to Databricks
Download Our Free Step-by-Step Guide
Watch a Databricks ETL Migration Demo Today
See a video demo of how end-to-end migration automation can migrate your legacy ETLs to Databricks.