Automate Your Teradata Migration with SHIFT™
Get off your legacy Teradata system and onto the cloud with SHIFT™.
How Do We Migrate Teradata to the Cloud?
Once pioneers in the Relational Database Management System (RDBMS) space, Teradata is now deemed as legacy. Organizations with ambitions of moving to cloud-native environments for data warehouse and advanced analytic capabilities are shackled to the legacy Teradata world, including high licensing costs, inability to perform advanced analytics, and their complex library of functions and commands. These include BTEQ, FastLoad, MultiLoad, TPT, and various others. Cloud-native vendors do not have support for these functions, which simply put, block organization's cloud migration ambitions. However, SHIFT™ fixes this problem - giving enterprises the ability to quickly translate Teradata utilities to their cloud target through automation.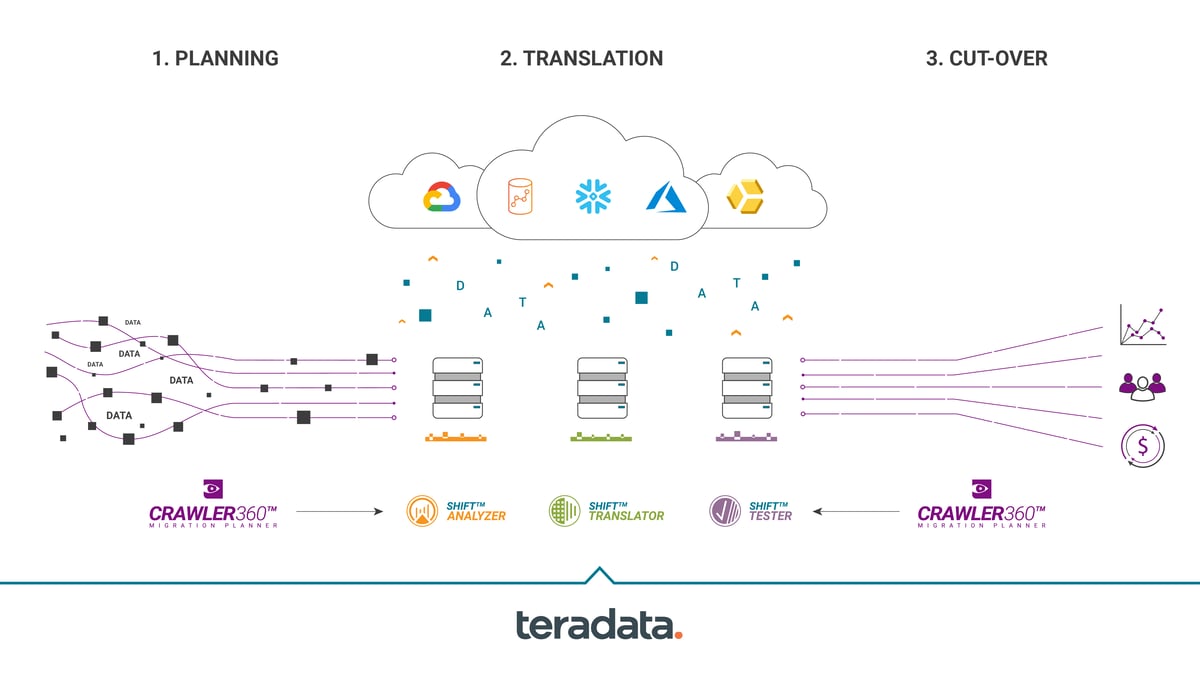 Use Automation to Translate Teradata Code to the Cloud
We developed our SHIFT™ Migration Suite with Teradata specifically in mind and have solved for the end-to-end challenges organizations experience when moving from Teradata to the cloud. ​

1. Automate Planning & Assessment Activities

2. Automating Code Translation

3. Managing and Accelerating Cut-Over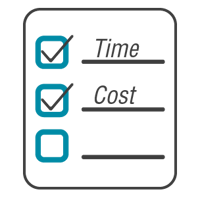 1. Automate Planning & Assessment Activities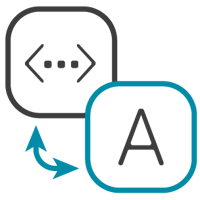 2. Automating Code Translation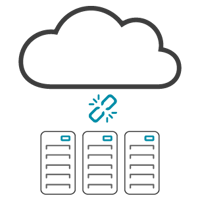 3. Managing and Accelerating Cut-Over
Leading Cloud Providers Trust Our Technology to Migrate Teradata to the Cloud
What Leading Industry Analysts Are Saying About Our Migration Technology
"With its SHIFT™ self-service offering, Next Pathway is providing a solution that accelerates the migration process, giving organizations a faster route to realizing value from their data."
Rob Enderle
Principal Analyst, Enderle Group
"Next Pathway created SHIFT™ - a code translation engine that enables a remarkably swift and robust transition from traditional on-prem data warehousing, to the new reality in the cloud."
Eric Kavanagh
Principal Analyst, The Bloor Group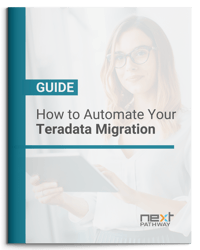 How to Automate Your Teradata Migration
Thinking of migrating your legacy Teradata EDW to the cloud? Our step-by-step guide shows you how to migrate your Teradata code, including proprietary functions like BTEQ and FastLoad to your cloud target, 40% faster than manual estimates. Download our guide today.
Watch a Video Demo of SHIFT™ Today
See a video demo of how SHIFT™ can accelerate the migration of your legacy Teradata EDW, ETL pipelines and BI & Analytics Applications to the cloud.