Snowflake Cloud Migration Checklist
Thinking of Migrating to Snowflake?
Our checklist gives you a comprehensive list of everything you should keep in mind when planning and executing your legacy EDW, Data Lake and ETL migration to Snowflake, including:
Migration Phases: Identify the three major phases in your cloud migration journey.
Defining Each Phase: Properly understand and define the purpose and goal of each migration phase.
Key Considerations: Get the top three focus areas for you to keep in mind within each migration phase.
"Our partnership with Next Pathway is essential to helping our customers automate this migration from on-premise solutions to Snowflake's Data Cloud."
Christian Kleinerman
SVP of Product, Snowflake
Snowflake Migration Resources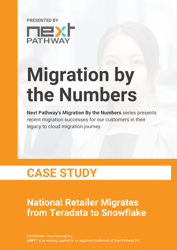 National Retailer Migrates from Teradata to Snowflake
Learn how Next Pathway helped a National retailer migrate to Snowflake in just 12 weeks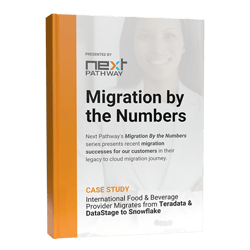 Food & Beverage Leader Moves from Teradata & DataStage to Snowflake
Learn how Next Pathway Modernized 2,768 IBM DataStage ETL jobs to run against Snowflake with SHIFT™ Translator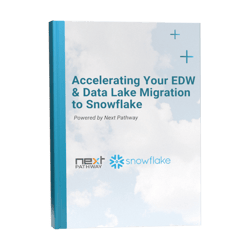 Snowflake Migration Guide
Our Snowflake migration guide gives you a comprehensive list of everything you should keep in mind when planning and executing your legacy EDW, Data Lake and ETL migration to Snowflake