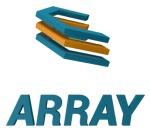 Modernize Your Legacy Applications with ARRAY™
Accelerate the development, testing and deployment of your microservices and APIs.
Use ARRAY™ to Modernize Your Legacy Systems for the Cloud
Organizations are accelerating their digital transformations through cloud platforms. To realize the full benefits of the cloud you need to do more than just a simple lift and shift - you need to modernize your legacy systems for the cloud.
ARRAY™ is a tool that helps organizations modernize their legacy systems and meet the demands of an increasingly digital business.
For Microservices & APIs
The ARRAY™ Code Generator automatically generates microservice source code based on user-defined service requirements and configuration parameters that comply to governance standards.

Proprietary set of templates that describe microservice and API layout and design, to be used by the code generator.

Proprietary deployment pipelines that assist in the microservice and API development workflow, including design and development, testing and deployment.
For Back-End Modernization
Design and development of services based on the proprietary framework from ARRAY™ which standardizes service development across large teams.

Testing framework that allows users to "stress-test" services to mimic production-like scenarios, prior to deployment.

Deployment pipeline to deploy and promote services through your existing CICD pipeline.
Why Enterprises Choose ARRAY™
ARRAY™ accelerates the development, testing and deployment of microservices and APIs, to help enable legacy systems and modernize front-end applications. ARRAY™ also accelerates the externalization of back-end services locked in legacy systems and the subsequent transition to a service-oriented architecture.
No Manual Design or Coding
There's no manual coding and design, cutting development time by 60%.

Open Architecture
Integrated with back-end systems as well as gateway & SOA technologies.

Enforced Governance
Governance via industry-standard design patterns and templates.
Trusted By Leading Cloud Providers to Help Enterprises Reach the Cloud
Modernize Your Legacy Applications Today
Schedule a free demo of ARRAY™ and see it in action today.
Keep Exploring Our Migration Technology